1. What is delegate access?
Lets HostingSeekers Delegate Access clients share access to their accounts with other people, but without sharing passwords or other sensitive information.
2. How does delegate access work?
Using Delegate Access, you can give permission to a person to take action on your behalf. Any products or other things purchased by delegates on your behalf will be added to your account.
Delegates must have a hostingseekers account to accept your invitation when you invite a delegate to access your account.
Adding someone to your hostingseekers account or giving them delegating access, might be the ideal solution when someone wants to log in and make changes on your behalf or assist you with properly configuring settings.
3. What distinguishes delegate access from domains?
Domain Forwarding, DNS, and nameserver changes can all be managed using Delegate access.
At any time, you can remove delegate access or adjust the authorization levels.
In this Knowledge Base article, we will cover how you can easily add someone to your HosingSeekers account.
Go to the Dashboard & Click on the Domain for which you want to give delegate access: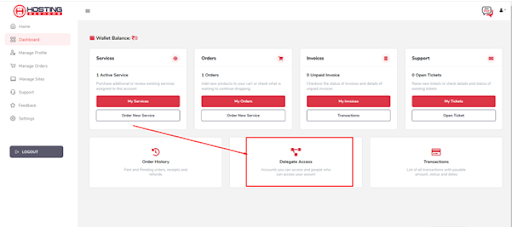 Click on "Delegate Access":
Here you will be able to give someone full Access or custom Access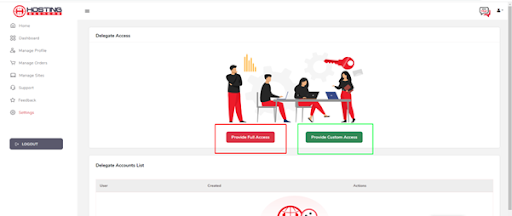 Enter the name of the user to whom you want to give delegate access and click on the Search button: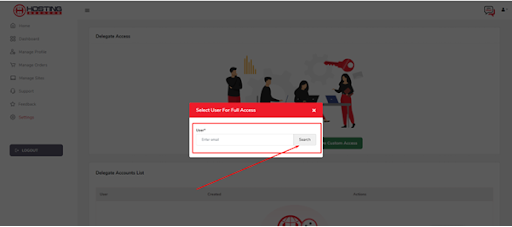 Once you clicked on the search button: if that user exists, it will show his email address and you can give them "delegate access":